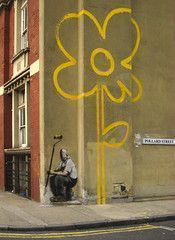 Banksy: portrait of an artist like no other
Nicknamed the king of provocation, the unavoidable Banksy has always managed to impress everyone with his art. A reputation that comes from his bold paintings. To carry the torch of his ideals, which are none other than the defense of freedom and the fight against capitalism, he is ready to crash events unexpectedly or to divert works.
Audacity or provocation ? An overview of this artist who has made a name for himself in the ruthless world of street art.
A rather mysterious life for Banksy
Banksy has always been very mysterious about himself and his origins. Because, until then, his name in the civil status remains unknown to all. Nevertheless, everyone agrees on the fact that this rather original artist would have been born in 1974 in the city of Bristol in Great Britain. Although, given the nature of his works, his often illegal acts and the fight he leads, it is perfectly normal that his life is surrounded by so much mystery.
We can't even tell if it's a man or a woman behind this street artist.
In the past, Banksy was part of a group of artists specialized in graffiti called "Bristol's DryBreadZ Crew (DBZ) in his hometown. It is besides by the means of this group that he asserted himself a little in this city which saw him being born and growing up. His first works that make up a large part of his history can be found in Bristol. It is worth noting that he started his artistic career in the 90's. In 1998, Banksy decided to participate in the "Walls on Fire" festival, a graffiti festival organized in Bristol, in a harbour area of the city.
In 1999, the artist goes further by creating The Mild Mild West. He then realized the first exhibition of all his works which took place in the Severn Shed restaurant in Bristol in 2000.
Between provocation and anarchism with Banksy
Banksy is a street artist pure and hard. Over the years and thanks to his provocative works, he gradually made a name for himself beyond the borders of Bristol. With the passing years, he manages to convince the street art lovers of his talent thanks to his ideals: to defend his values through his art.
His talent and his provocative spirit have made him an artist in his own right but also entirely separate.
During the year 2004, Banksy has realized the printing of fake banknotes with the effigy of Lady Diana in place of the Queen, taking care to put "Banksy of England" in place of Bank of England. Fake money that he scattered during the Notting Hill carnival.
In 2005, he arranged to have his creations clandestinely displayed in the Museum of Modern Art (MoMa) at the Louvre, one of the world's largest museums. His works blend so perfectly with the others that some of them stayed there for days before being discovered by the managers of the museum.
But, it should be noted that the street remains the favorite place of Banksy's anarchism. In 2006, in order to demonstrate his dissatisfaction and anger at the treatment of prisoners at Guantanamo Bay, the urban artist brought an inflatable doll into California's Disneyland wearing an orange uniform that was identical to the one worn by the inmates of this famous prison. The artist's antics don't stop there, because he continues to defy the authorities in his own way by revealing his fight against capitalism and other issues.
Works that impact the whole world
The artist has also registered his trademark in the West Bank. And this, thanks to his drawing "Peace on Earth", made the day after Donald Trump recognized Jerusalem as the capital of Israel. A graffiti that shows two robber angels trying to widen the West Bank barrier.
Banksy continues to do useful work with his art despite his rebellious, denunciatory and provocative side.